Ugh. I've been in a bit of a funk these days. I feel a little bit like a lost soul, wandering on a road that is somewhat familliar, but I have NO freaking idea where the road is going. None. "It's the journey that matters, not the destination," yadda yadda yadda, but I'm not big on aimless wandering. Nope, I'm a "have a purpose and get 'er done" kind of gal. I like lists, goals, deadlines, and right now I have none of those things. I'm a damn leaf floating on the wind and I suck at it.
I feel like I've been looking for inpiration all over. But then it hit me tonight - I've been looking for it all over the internet - in blogs, facebook, the words and pictures of others. But the words and pictures of OTHERS are not what I need...I need to stop trying to pimp of someone else's inspiration and find my own.
So that's what I'm going to do. I'm going to start right here. August Project - A Month of Happy. I'm going to post this month, as much as I can, about things that make me happy. It might be a photo, a thought, or just a whole lot of words, because sometimes emptying them out of my head is something that makes me happy too. I'm looking for things that make me smile, things that make me want to work harder and be a better human, things that are just downright beautiful, something that makes my heart swell with pride, joy, gratitude, or all of the above. Something that just feels good or right. A little something I said, a little something someone else said. Or, anything else that falls under the definition of happy.
Will you join me? Will you find the happy everyday this month too? There's no pressure, it doesn't even need to be every day that you post, but try to take a moment each day to think of that one thing that made you smile, for whatever reason. Post a photo, or just a few words, or whatever you have time for. Or just come and leave a comment. Or not, if that's what makes you happy!
The first thing that's going to make me happy this month? I'm going to take a little Facebook break. Now I'd be downright lying if I said I was going to stay away from it all month, but I'm going to try to be there less. Way less.
The second thing? These awesome little buttons that I've made.
Except they're not really buttons, because I don't know how to make them all code-y.
(Yay! Thanks to
the Bean
for helping me fix that one!) So, if you're up for joining, feel free to snarf one and put it on your very own blog. Or heck, make your own with something on it that makes YOU happy!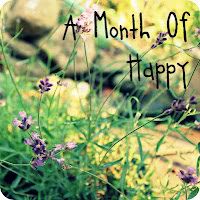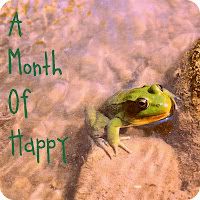 Won't you please let me know if you're joining in, I'd love to see what makes you smile everyday too! I'm going to start a link list in the sidebar there with those that are participating, so you can be overwhelmed with happy!
xoxox
(Oh...and the next thing that's going to make me happy is fixing that terrible header up there. ^^^ You guys, it's bad. Why didn't you tell me? Blargh.)
(Nevermind, fixed it!)